Using the table below you can see when we launched your local BBC One HD channel. 
If you have an SD-only satellite device, then the dates below are when you will have lost access to your local news on BBC One. You will need to upgrade your device as all the SD versions of the BBC channels on satellite, including BBC One, will be closing in early 2024.
BBC One and BBC Two in Northern Ireland and Wales already broadcast in HD. On the dates shown below, local versions of these channels became HD-only. Similarly, in Scotland, the local version of BBC One became HD-only.
Not sure which version of BBC One you get?
The easiest way to tell which regional channel you get is to check which local news programme comes on at 6:30pm on weekdays.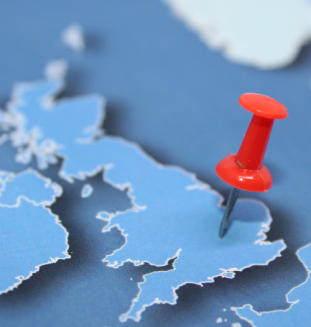 HD Upgrade - week commencing 23 January 2023
Local channel version
(or 'new to HD' channel)

BBC One local news
programme at 6.30pm 

Freesat change date

Sky change date

 

BBC One South

 

South Today

 

23 January 2023

 

24 January 2023

 

BBC One Northern Ireland
BBC Two Northern Ireland

 

BBC Newsline

 

23 January 2023

 

24 January 2023
HD Upgrade - week commencing 30 January 2023
Local channel version
(or 'new to HD' channel)

BBC One local news
programme at 6.30pm 

Freesat change date

Sky change date

 

BBC One East

 

Look East

 

30 January 2023

 

31 January 2023

 

BBC One East Midlands

 

East Midlands Today

 

30 January 2023

 

31 January 2023
HD Upgrade - week commencing 6 February 2023
Local channel version
(or 'new to HD' channel) 

BBC One local news
programme at 6.30pm

Freesat change date

Sky change date

 

BBC ALBA

 

N/A

 

6 February 2023

 

7 February 2023

 

BBC One West Midlands

 

Midlands Today

 

6 February 2023

 

7 February 2023

 

BBC One East Yorkshire
and Lincolnshire 

 

Look North 
(East Yorkshire
and Lincolnshire)

 

6 February 2023

 

7 February 2023

 

BBC One Wales and

BBC Two Wales

 

BBC Wales Today

 

6 February 2023

 

7 February 2023
HD Upgrade - week commencing 13 February 2023
Local channel version
(or 'new to HD' channel)

BBC One local news
programme at 6.30pm 

Freesat change date

Sky change date

 

BBC Red Button (RB1)

 

N/A

 

13 February 2023

 

15 February 2023

 

BBC One West 

 

Points West

 

13 February 2023

 

15 February 2023

 

BBC One South West 

 

Spotlight

 

13 February 2023

 

15 February 2023

 

BBC One Channel Islands

 

BBC Channel

Islands News

 

13 February 2023

 

15 February 2023

 

BBC One London 

 

BBC London

 

14 February 2023

 

15 February 2023
HD Upgrade - week commencing 20 February 2023
Local channel version
(or 'new to HD' channel)

BBC One local news
programme at 6.30pm

Freesat change date

Sky change date

 

BBC Parliament

 

N/A

 

20 February 2023

 

21 February 2023

 

BBC One North East

and Cumbria

 

Look North

(North East and Cumbria)

 

20 February 2023

 

21 February 2023

 

BBC One North West

 

North West Tonight

 

20 February 2023

 

21 February 2023

 

BBC One Yorkshire

 

Look North

(Yorkshire)

 

20 February 2023

 

21 February 2023

 

BBC One Scotland

 

Reporting Scotland

 

20 February 2023

 

21 February 2023

 

BBC One South East

 

South East Today

 

21 February 2023

 

22 February 2023